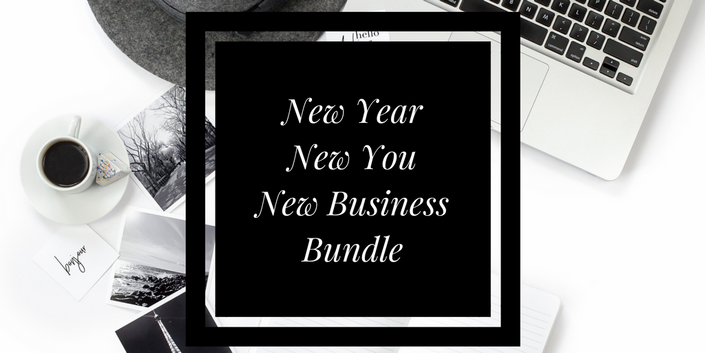 New Year, New You, New Business Bundle
Get to where you need to be in 2017
You can't grow your business without growing yourself.
(And vice-versa.)
As creatives and business owners ourselves, we know what it's like to live the dual life of a business owner.
You have one life, in which your role is CEO, COO, and C-everything. Your life is focused on the work, the products, the joy, the creativity, the invoices, and the taxes.
And you have your other life, in which you are a family member, a friend, a neighbor, and maybe even a yoga class partner. Your life is focused on your health, your loved ones, and growing as a person.
But these two lives are lived all in one person. And we know that to be the best we are, we have to invest equally in our business and ourselves.
So it comes as no surprise if your new year resolutions list looked a bit like ours: a mix of personal and business goals to help us grow and experience new successes in 2017.
Get where you need to be in 2017
and let us help you get there with courses and coaching on blogging, healthy habits, business strategies, and web design valued at over $1200.
And as business owners we also get that you just don't have the time to aimlessly google keywords and hope you find the best resources out there. You're living your life to the fullest.
That's why all of us pooled together our best resources for business and personal growth in one spot.
We want you to get to where you need to be in 2017. And we want to save you time and make it easy for you by having just one place to go to invest in yourself and your business.
Check out the class curriculum below to learn more about each bundle offering.
Course Curriculum
Sales Funnel Masterclass
Available in days
days after you enroll
Facebook Live Success - $197 value
Available in days
days after you enroll
New Year, New Nutrition!
Available in days
days after you enroll
These are just some of the great outcomes of you taking advantage of this bundle:
You'll increase the number of sales you'll make in 2017
You'll feel happier and healthier than you did you 2016
Your brand will be on point and a masterful tool in helping you land sales
You'll finally have that "ah-ha!" moment in your business
Your copywriting skills will undergo a major upgrade
You'll save so much time after you streamline your business practices
You'll have a guide that walks you through setting up your blog and business that you can always refer back to
And so much more.
This course is closed for enrollment.
Frequently Asked Questions
When does the course start and finish?
The course starts now and ends July 1, 2017.
How long do I have access to the course?
You have access to this course until July 1, 2017. We have this 6-month deadline because we want you to make all of these great things happen for you this year! Don't put off making your health and your business a top priority in 2017.
What about refunds?
Refunds are available during the sale period, December 20-January 6. No refunds will be given after this time period.